Opponents of the original SOAR effort campaigned heavily in 1998 to defeat us. Fortunately, SOAR withstood their expensive and deceptive tactics and won with a resounding 63% of the vote. Unfortunately, our opponents are back, and they're calling themselves SustainVC.
SOAR – Protect Citizen Rights to Vote
This time around, these same opponents are trying a new strategy – to divide support for the countywide SOAR initiative by pushing a competing measure to keep SOAR from getting the majority vote needed to win. If neither initiative gets 50% of the vote, neither passes and SOAR's voter protections come to an end in 2020 – which would delight many of SOAR's opponents.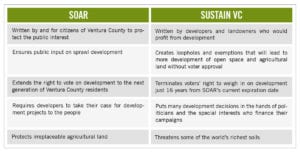 The competing measure would end the right to vote on development projects in unincorporated areas in 2036, just 16 years after SOAR's current 2020 expiration date. SOAR's renewal effort would extend SOAR's protection to the year 2050, ensuring that another generation of Ventura County residents will have the same say on development that current residents have enjoyed since 1998.
In addition to cutting in half the number of years SOAR would protect open space and farmland, the competing measure creates loopholes and exemptions that will open large areas of farmland to development without a vote of the people.
Far from being sustainable, SustainVC is an initiative that encourages the removal of farmland and promotes urban sprawl.
SOAR 2050. If you want to stop sprawl and protect agricultural land and open space in Ventura County, the answer is simple: protect citizens' right to vote on development.

SOAR Frequently Asked Questions (FAQ's)
Q: What does the County SOAR do?
A: SOAR requires a vote of the people in the cities and the unincorporated county on proposals to convert open space, agricultural and rural lands for urbanization.
Q: What's the difference between SOAR and SustainVC?
A: Simply put, SOAR Saves More! SOAR renews the right to vote on protection of open space and farmland until the year 2050. SustainVC drives loopholes into SOAR's protections and cuts in half the timeframe of SOAR protections. SOAR is supported by grassroots citizens who want to protect open space and farmland for future generations. SustainVC is supported by developers and landowners who will profit from development of those lands.
Q: What happens if both SOAR and SustainVC pass by getting more than 50% of the vote in November?
A: The initiative with the most votes wins.
Q: What if neither SOAR nor SustainVC get 50% of the vote in November?
A: Neither initiative moves forward.
Q: What do city SOAR initiatives do?
A: They put City Urban Restriction Boundaries (CURBs) around a city that can only be changed by a vote of that city's voters. They provide a second level of protection in cases where cities want to expand into open space and agricultural land in the unincorporated county.
Q:  What if the county SOAR initiative is renewed but a city initiative isn't?
A: There are at least four years until the current city SOAR initiatives expire so we can try again in a subsequent election to renew the initiative. Without a city SOAR, city councils can bypass the County SOAR to expand their borders and develop county open space and farmland without voters in either the city or the county having a say.
Q:  What if a city SOAR initiative is renewed but the county initiative isn't?
A:  Without a county SOAR, the Board of Supervisors can rezone open space and farmland in the unincorporated county without a vote of the people.