Most existing SOAR initiatives expire in 2020. This November Ventura County residents have the opportunity to extend the initiatives and keep their right to vote on urban development for another generation.
SOAR's Measure C is on the ballot countywide, as are SOAR measures in 8 different cities throughout the county. There is a competing measure, Measure F, that is also on the countywide ballot funded by wealthy landowners and developers. If Measure F passes with more votes than Measure C in November, existing SOAR protections throughout the county will end immediately.
Support SOAR Renewal
What Happens If SOAR Expires?

If we let SOAR expire in 2020, Ventura County citizens will no longer have the right to vote on development of open space and farm land and thousands of acres will be at risk of urban sprawl.
SOAR Renewal Campaign Milestones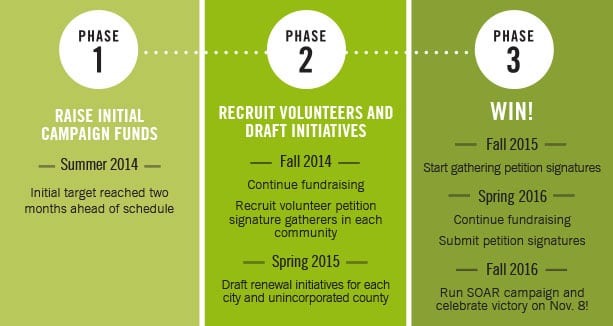 What is SOAR?
Benefits of SOAR
History & Accomplishments
SOAR Renewal Campaign