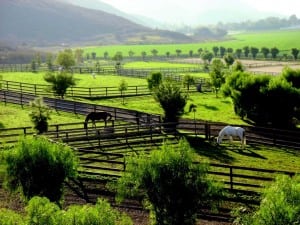 What is SOAR?
SOAR is a series of voter initiatives that require a vote of the people before agricultural land or open space areas can be rezoned for development.
The first SOAR initiative was approved by the voters in the City of Ventura in 1995. Since 1995, nine SOAR initiatives have been enacted protecting open space and agricultural land around all of the major cities in Ventura County as well as in the county's unincorporated areas. The County SOAR initiative blocks the Ventura County Board of Supervisors from rezoning unincorporated open space, agricultural or rural land for development without a vote of the people. Eight city SOAR initiatives require city councils to obtain the approval of their citizens before allowing urban development beyond a City Urban Restriction Boundary (CURB), or, in the case of the City of Ventura, before rezoning agricultural land within the city's sphere of influence.
No other county in the United States has more effective protections against urban sprawl.
Who is SOAR?
SOAR is a non-profit grassroots group of citizens in Ventura County, California who are dedicated to keeping Ventura County from following the same urban sprawl pattern that has plagued the rest of Southern California. SOAR has over one thousand active members with a presence in each city of the county.
Why do we need SOAR?
Sitting on Los Angeles County's northwestern boundary, Ventura County is subject to tremendous sprawl development pressure. Ventura County's rolling hillsides, rugged mountains, beautiful beaches and fertile plains and valleys present a spectacular setting that creates conflicting incentives to preserve and develop this landscape. With a population of approximately 900,000 and over 100,000 acres of agricultural land in production the county offers a highly attractive semi-rural respite from the urban sprawl of Los Angeles County, where one city's strip malls and subdivisions merge indistinguishably with the next.
The history of wasteful sprawl development in Southern California over the last several decades, often over the strenuous and vocal objections of residents, is testament to the fact that local elected officials have been more responsive to development pressure than to the core values of their citizens. The fact that the largest source of campaign funds for local elected officials in Southern California is pro-development money was a primary reason that Ventura County citizens recognized the need an extra level of review for urban sprawl development proposals.
How can we keep SOAR?
Most existing SOAR initiatives expire in 2020. This November Ventura County residents have the opportunity to extend the initiatives and keep their right to vote on urban development for another generation.
SOAR's Measure C is on the ballot countywide, as are SOAR measures in 8 different cities throughout the county. There is a competing measure, Measure F, that is also on the countywide ballot funded by wealthy landowners and developers. If Measure F passes with more votes than Measure C in November, existing SOAR protections throughout the county will end immediately.
What is SOAR?
Benefits of SOAR
History & Accomplishments
SOAR Renewal Campaign